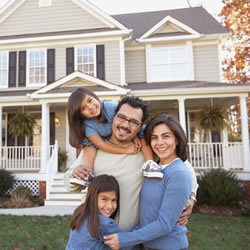 A USDA Loan is a federally guaranteed loan program that makes millions of borrowers eligible for a rural home mortgage. USDA Loans are guaranteed by the Department of Agriculture and apply to any home that is in a rural area, or has a population of less than 20,000 residents. USDA Loans are some of the most credit flexible mortgages available, and come with no closing costs or mortgage insurance. USDA Loans offer a low fixed rate mortgage and is the only loan program available to the general public that requires no down payment. USDA Loans can also be acquired by individuals living in rural areas who are looking to make improvements or build on to their existing property of farm.
How To Qualify For a USDA Loan
USDA loans are not only for farmers, or rural residents, but can apply to almost anyone looking to purchase a home outside of a major metropolitan area. First off, to be eligible for a USDA mortgage your home must be located in a USDA designated rural area. USDA designated rural areas including farm lands, wide open properties, or any area with a population of under 20,000 residents. To be eligible for a USDA Loan you must also meet the necessary financial requirements. Buyers can only earn at most 80% the area median income which ranges from county to county. You must also have a favorable credit rating, or at least show that you working hard to improve your credit score and have a consistent source of income.
Benefits of a USDA Loan
A USDA loan comes with a surprising amount of benefits that standard mortgages do not offer. First off, USDA loans require no monthly mortgage insurance as well as no down payment at the time of purchase. USDA loans come with 100% guaranteed financing and typically have minimal to zero closing costs. USDA loans also allow for property improvements to be financed up to 102% and the repairs can be completed immediately after closing the property. USDA loans are also very credit flexible and are great opportunities for moderate to low income people to find a beautiful home at a reasonable cost.