Get USDA Approved Before Finding a Home
USDA Home Loan Program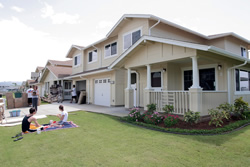 In the world we are living today, the dream of becoming homeowner is one that most of us only see as a dream. With limited job opportunities and inflation on an all time high the idea of being master to your own home seems too far- fetched and unreal for people with low income and a limited budget. However, with a USDA home loan this dream of being a home owner for all those of you who are functioning on a low income and a limited budget can become a beautiful reality in an affordable manner possible.
USDA (United State Department of Agriculture) approved loans are designed specifically for those people who come in the bracket of low income citizens. These USDA loans are extremely affordable and easy to apply for.
How to Get USDA Approved
The USDA Rural Home Loan Program are created to help the development of rural areas and also to realize the dream of low income citizen to become the master of their own home. The USDA loan eligibility requirements are few and quite uncomplicated and once you meet these requirements, getting USDA approved will not be a problem.
In order to get USDA approved the first eligibility criteria that you need to meet is the income eligibility criteria. To apply for this loan your current income on a yearly basis must not exceed the limit as decided by the USDA for your home county. Apart from income limitation you also need to keep in mind that the property or home you want to buy must be located in the qualified USDA rural. If the home you want to buy is not in the eligible area as stated by the United States Department of Agriculture than you will not get the loan.
Once you meet these two guidelines the deciding factor for loan approval remains your credit history. The USDA rural home loan program does not have a strict credit score guideline but remember that it has stringent evaluation process of credit history. The reason behind this is simple – they want to make sure that the borrower is able and willing to meet the repayment obligations without any problems.