Rural Mortgage Loans/Loan Rates
Getting a Loan in a Rural Area
Being the owner of a home is a dream we all see, however not everyone has the means or the income to afford one even his or her entire life. This is why home loan programs like The USDA home loans (United States Department of Agriculture) and the FHA (Federal Housing Administration) loans are a blessing for individuals as well as families who belong to the low income group and are not eligible for the traditional loan programs.
These loans are targeted at the low income rural Americans and have extremely flexible eligibility requirements. The term of these loans run from 30 to 38 years. Moreover, these loans feature 100% financing as well. The credit qualifications as well as income standards may vary according location but they are geared up for low income groups and that is why the houses bought under these loans must be modest in design, cost and size.
Unlike USDA loans, these loans do not come with a geographic area restrictions and the limit of the loan usually depends upon the location as well as the region in the country. Moreover, FHA loans are not guaranteed but only insured and the income as well as credit eligibility qualifications are usually higher than the USDA counterparts. FHA insured homes usually required at least 3.5 percent down payments.
Seek Out the Best Loan Rates for You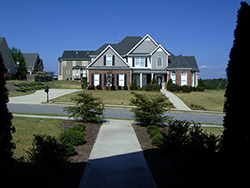 Some easy pointers can help you find the best loan rates for yourself.
Compare rates – Look around for the best rates
Polish your credit score
Beef up your down payment as it can help you secure a better interest rate
Consider how long you will be in your house
Get a Free Rate Quote
Get a free rate quote and email us or speak with one of our rural mortgage experts today at 877-342-7449.