USDA Refinancing Guidelines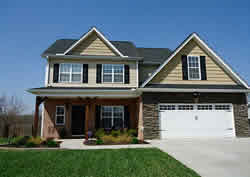 If you bought a home through the USDA home loan program you might be eligible to refinance your existing USDA loan at a current lower interest rate. Because of today's historic low interest rates, the USDA loan refinancing program gives existing USDA homeowners an excellent opportunity to refinance their home and receive a lower monthly mortgage payment. However, because USDA loans are specifically designed for moderate to low income families, the USDA refinance program does not allow you to take any cash out on your home. While the USDA refinance program doesn't allow you to put any cash back in your pocket, it is a relatively quick and easy process that can save you thousands of dollars over the course of your mortgage. Here are the requirements to refinance your USDA mortgage.
USDA Refinance Guidelines
If you do not currently have a USDA mortgage, either Guaranteed or Direct, you are not eligible for the USDA refinance program. Secondly, the USDA refinance program does not have a streamline rate reduction option similar to VA and FHA loans, so all borrowers must use their current income and debt ratios to qualify. Borrowers must have a medium credit score no lower than 620, although a 580 credit score might be considered. Also, the borrow must be up to date on their existing USDA mortgage and must not have any late mortgage payments in the past 12 months. And lastly, in order to be able to qualify for a USDA refinance, the refinance must result in the borrowers monthly mortgage rates being lowered, and the interest rate must be at least 1% lower than the current interest rate.
Additional Requirements and Guidelines
It is important to remember that when applying for the USDA refinance program your new maximum loan amount can not exceed the principal on your existing loan amount plus any additional fees. Borrowers can finance up to 103.5% of the appraised value of the home, which will include a loan guarantee fee of 3.5% of the loan amount. This can be financed into the loan or can be paid upfront. Also, even if your USDA mortgage is no longer in a USDA eligible area, you are still eligible to refinance your loan. The USDA refinancing program is an excellent opportunity for current USDA mortgage holders to take advantage of today's historic low interest rates and secure lower, more affordable monthly mortgage payments.