How To Apply For a USDA Home Loan
What is a USDA Home Loan?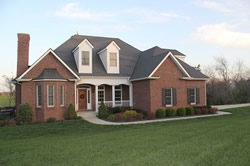 USDA Home Loans are excellent opportunities for first time homeowners, or people with low to moderate incomes, to get a low cost mortgage in a rural property. USDA home loans are not only for home purchases, but can be used for building a new home in a rural area, refinancing a home in a rural area, or in some cases for the purchase of farming land and equipment. USDA home loans are the only loans available to the general public that allow for 100% financing and require no down payment. USDA loans also offer low fixed rate mortgages, little to no closing costs, and no asset checks.
Eligibility Standards
Before applying for a USDA home loan you must first be able to pass all the necessary eligibility standards. In order to apply for a USDA loan you must be a U.S. citizen, qualified alien, or legally admitted to the United States for permanent residence. You also must have a satisfactory credit history, a satisfactory income-to-debt ratio, and must be able to afford monthly mortgage payments, taxes and insurance. You must have an income that is no greater that 115% of the surrounding area median income, and must find a property that is in a rural area, or a town with less than 20,000 residents.
Applying For a USDA Home Loan
After meeting all the necessary requirements, you then need to call your local USDA office or go to the USDA website to find an approved lender. At the USDA website you can browse for various state housing agencies and lenders that handle USDA loans such as the Department of Housing and Urban Development, U.S. Veteran's Administration, Fannie Mae, Free Mac and any Farm Credit System institution. Once you have found a secured lender you will need to obtain a copy of a USDA loan application and fill out and submit this form to your local or state USDA office.
Once you have submitted your application the USDA will begin to verify your information such as employment and credit history to make sure you're eligible for a USDA home loan. A small processing fee will be required when you submit your application. The USDA will then send you an appointment request by mail to schedule an appointment to review your information. At your scheduled appointment the USDA will review your documentation, run your credit history and review your current work status. Once the loan process is complete you will be notified if you are eligible for a USDA loan. Once approved, they will print you out a statement of the loan amount your eligible for so that you can take it your real estate agent to begin the process of buying your USDA approved home.