USDA Loans 2010 USDA Income Limit Update
USDA Loans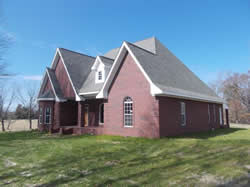 The USDA home loan program is designed to help moderate to low income households secure a home loan, with low monthly payments and absolutely no money down. USDA home loans are excellent home loan opportunities for moderate to low income families looking to own a home in a rural area or small town of less than 20,000 residents. USDA loans also come with no mortgage insurance, low closings costs, and some of the cheapest monthly mortgage payment rates available. However, because USDA loans are designed for low income families, there are designated income limits that vary from county to county. If your gross household income is above this designated income limit, you will not be able to qualify for a USDA Loan.
2010 Income Limit Update
The USDA has announced the income limits for the Guaranteed Rural Housing loan program have changed effective June 2nd, 2010. These new income limits are based on a two tier income structure consisting of 1-4 member households and a 5-8 member household, which replaced the 1-8 person structure of 2008. This new two tier structure allows for greater flexibility in terms of income limits and eligibility. Because the 2nd tier designates for families with 5-8 individuals, the income limits are substantially higher, giving more families access to this excellent loan program.
USDA Home Loan Income Limits
USDA Home Loan Income limits will vary from county to county, depending on the average median income of that area. Income limits are generally up to 115% of the average median income for the area you're looking to live in. The easiest way to determine qualifying income for a designated area is to visit the USDA website, or contact your local USDA field office for more information.
If your annual household income exceeds the income limits for your area, there are a few deductions in place that may help to lower your overall household income and allow you to qualify. For example, for each resident of the household, that is under 18 years of, a full time student, or disabled, you will be eligible for a $480 deduction per child. Also, there are deductions that allow for adjustments regarding various child and elderly care expenses. To find out if you qualify for a USDA home loan please contact a USDA mortgage representative for more information.