USDA Mortgages in New York
Welcome all residents of New York!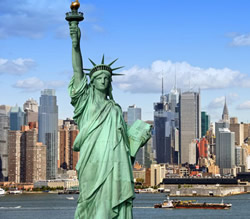 The US government, along with the USDA (United States Department of Agriculture), is now offering zero down payment enabled and fixed rate interest powered mortgages scheme for rural housing development. If owning a home was in your agenda but due to harsh economic conditions and rising housing costs you are not able to afford it, then this is an excellent chance for you to own your own home; at your own conditions.
For residents of counties such as Allegany, Cattaraugus, Chenango, Columbia, Delaware, Essex, Franklin, Genesse, Greene, Hamilton, Herkimer, Lewis, Livingstone, Orleans, Otsego, Yates or many others within New York, the USDA mortgage program is an excellent chance to secure their own home.
Non-Eligible Counties – USDA Mortgages in New York
Based on the development index of the area, USDA has declared few states non-eligible for this special housing loan program. Some of these counties are:
Albany
Bronx
Broome
Cayuga
Chemung
Cortland
Dutchess
Madison
New York City
Niagara
Orange
Ontario
Richmond
Tompkins
Queens
To get the complete list of all eligible and non-eligible counties for USDA mortgages in New York, please refer to the official website of USDA by clicking here: http://eligibility.sc.egov.usda.gov/eligibility/textDiscriptionAction.do?pageAction=oipCounty&stateCode=36
USDA Mortgages in New York – Income Limits
There are some affluent families who can afford their own home with their own finance. USDA wants to filter out such households from granting this special housing loan program. For example, for a 6 member household staying in Allegany, the annual household income should fall between $33050 and $98650 in order to get loan approved for guaranteed housing loan. To get the complete list of income limits based on the county and members of household, please visit the official USDA website at: http://eligibility.sc.egov.usda.gov/eligibility/welcomeAction.do?pageAction=pageLoad&requestInfo=GuaranteedIncomeLimits&NavKey=incomelimit@12
USDA Mortgages in New York – Benefits
Fixed interest rate loan
Zero down payment required for loan approval
100% finance available
Instant approval
Backed by US Government; Fully legalized and authorized mortgage scheme
Flexible income limits
Your one positive action can empower you to secure your own home at your own conditions. USDA Mortgage in New York can help you to materialize your dream of owning your own home. You can start the process of applying for USDA mortgages right away by filling the short form in the right hand side of this webpage and/or by calling us at 877-342-7449 .