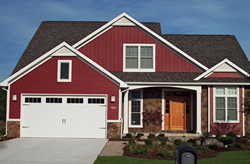 If you're looking for a home loan with low interest rates, flexible credit guidelines, and absolutely no down payment, look no further than the USDA home loan program. USDA home loans are currently helping thousands of families across the country realize the American dream of home ownership. USDA home loans are 100% backed by the United States Department of Agriculture, comes with low interest rates, and are one of the only remaining home loan programs in the country that requires absolutely no down payment. Because many home buyers don't have the cash on hand to afford the necessary down payment required for a traditional home mortgage, the USDA home loan program gives thousands of potential home buyers a real opportunity at buying the house of their dreams, without the financial stranglehold that comes with traditional mortgages.
USDA Home Loan Eligibility
Because the USDA home loan program is designed to help low to moderate income families and individuals afford a home mortgage, it comes with more rigid eligibility requirements. First of all, for any home to qualify for a USDA home loan, the property in question must be located within a USDA eligible rural area. USDA eligible rural areas often vary in definition state by state, but are generally defined as any property that is located within a rural or country area, with less than 20,000 – 25,000 residents. However, just because USDA home loans have long been considered "farmer's loans", this is not actually the case. There are plenty of USDA eligible homes that are located on the outskirts of major U.S. cities in small suburban communities and towns, as long as it doesn't exceed 25,000 residents.
USDA Income Requirements
USDA Home loan eligibility depends mostly on your overall yearly income. Because USDA home loans are specifically designed to help moderate to low income families secure costly home loans, if your overall total income exceeds income limitations for your particular area, you will have a hard time qualifying. To be eligible for a USDA home loan, your adjusted annual household income cannot exceed 115% of the median average income for that particular area. Your total household income is determined by your overall yearly income, as well as your spouse's income, and any other working adults in your household. However, if your total household income exceeds the average median income limit for that area, there are certain deductibles in place, such as for college students, or taking care of elderly members of your family for example, that can help lower your overall income levels.
Other Eligibility Requirements
To qualify for a USDA home loan you must a current U.S. citizen, or be permitted legal residence into the United States. You must have adequate and dependable income, and must be able to prove that you can afford monthly mortgage payments, as well as pay any previous debt that you may have incurred. You must have an above average credit rating with a minimum FICO score of 620. However, many USDA lenders have been known to go as low as 580 as long as you have dependable income with a stable credit history.
Lastly, all bankruptcies or foreclosures must be discharged in the last 3 years, and you can't have any outstanding tax liens or accounts in collections within the past 12 months. For more information on whether you qualify for a USDA home loan please contact your nearest USDA home loan representative.