Advantages of refinancing
Deciding on refinancing your mortgage is a big decision which is quite risky. However, there is no denying the fact that there are a lot of advantages that are connected to refinancing. These advantages include:
Refinancing mortgage can bring down your monthly mortgage payment – If you are refinancing then you may find that you can lock in at a lower interest rate.
The interest that is paid on the mortgage as a total can also be reduced – Depending upon the terms of the loans, refinancing costs as well as the interest rate of refinancing, it is possible for you to pay lower interest in total
You can pay off your mortgage faster
If you have a good credit score then you can easily qualify for a lower interest rate
You can unlock the equity in your home with the help of refinancing
Costs Associated with Refinancing Your Mortgage
It is true that the cost of mortgage refinancing may appear attractively low however; the cost of refinancing will vary depending upon the credit score, interest rate as well as the loan amount. Homeowners, who are skilled at the art of negotiation, are more likely to obtain a better mortgage refinance deal.  The refinancing closing costs includes appraisal fees, credit fees, lender fess, title fees, insurance and taxes as well as escrow and title fees.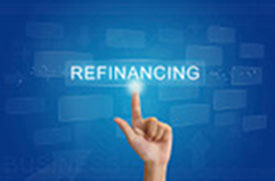 The borrower or the owner of the property can finance their closing costs as well as fees if they want by adding them to their current mortgage balance – provided there is enough equity in the property at the time of refinancing.
Decide if Refinancing is for You
Rates of refinancing ma entice you by being really low but do not make your refinancing decision due to low percentage point. Remember that you will be required to pay above the points. This is why you must always consider these costs before you make a final decision.
If you are considering refinancing then speak with one of our refinancing professionals today at 877-342-7449.