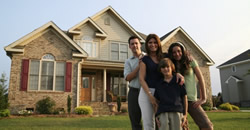 USDA home loans provide up to 100% financing for a home purchase or home refinancing, and are great ways to fund home building projects. These loans are guaranteed by the USDA (United States Department of Agriculture) and are primarily used to help low-income individuals or households purchase homes in rural areas. USDA loans are great deals because they allow you to finance up to 103.5% of the purchase price of the home and can be used to buy, build, repair, or renovate any new or existing home. While this program was originally designed to stimulate rural development and assist the agriculture community with housing, it has turned into a great opportunity for first time homebuyers to buy houses in many areas of the country, including in many suburban areas.
Who is Eligible for a USDA Loan
While USDA loans were once considered "farmers loans", this is simply no longer the case. Just about anyone who is looking to purchase a home outside of a major metropolitan area can now possibly qualify for a USDA loan. Some of the eligibility standards to qualify for a USDA loan include what county and zip code your home resides in, your current income, credit history, as well as the number of dependents you claim. USDA loans also have various income and eligibility guidelines. Generally, for a guaranteed loan you must currently be employed and be able to show that you are able to make your monthly housing payments. You also must be able to prove that you're currently living situation is inadequate and must not have debt payments that exceed 41% of your gross income.
Advantages of a USDA Loan
USDA Loans offer a lot of advantages that many other home loans do not. USDA loans may cover up to 102% of the purchase price of the home, with a guarantee fee included. Also, no down payment is required for USDA loans and mortgages are generally fixed at a reasonable 30 year fixed loan rate. Also, the interest rate for USDA mortgages are generally well below the market price and are set at the lenders discretion. USDA loans also come with almost no indirect costs like closing costs and commissions, and are great opportunities for home building projects and buying the home of your dreams.