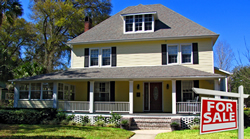 While finding the right mortgage can be a daunting challenge in today's rough economy, USDA home loans offer some of the most credit friendly and low rate mortgages available. While the USDA Home Loan program is run by the Department of Agriculture, it does not technically have anything to do with farming. It's simply a government issued home loan program directed for families in rural areas. These rural areas general include houses in wide open spaces, usually outside city limits, or communities with less than 20,000 people. These programs are great for first time homeowners to find a beautiful home, with 100% financing.
The goal of the USDA loan program is to assist smaller, rural communities by making their land more affordable and accessible to the overall public. USDA loan programs are designed to help moderate to low income families get an affordable home loan while helping to boost the local economy.
USDA Home Loan Program Benefits
The USDA home loan program is the only home loan program offered to the general public that allows 100% financing of your home's value. Also, there are no down payments of any kind needed for the USDA home loan program. There are also no monthly mortgage insurance payments with a USDA guarantee loan, and USDA home loans offers some of the lowest fixed interest rates in the country. There is no maximum loan amount. and no assets need to qualify. USDA loans are also some of the most flexible credit mortgages in the entire housing market.
USDA Home Loan Eligibility
There are only a few basic requirements to be eligible for the USDA Home Loan Program. First of all, you home must be located in a designated USDA rural area. You must also not exceed your current yearly USDA income limit set for your particular county. Finally, while the USDA Loan program does not have a strict credit score guideline, it will look over your credit history in an effort to evaluate if you can adequately afford to make all payment obligations. If you meet all requirements and are eligible for a USDA Loan the do not hesitate to contact a USDA representative for more information about a USDA loan in your area.