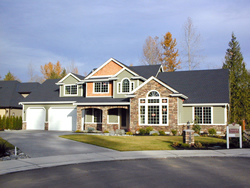 USDA Loans provide low cost home mortgages for individuals looking to live in a rural or low population area. USDA loans are some of the best guaranteed mortgages available and offer some of the lowest fixed mortgage rates out of any home loans in the county. USDA Loans are also credit flexibility, have zero to minimal closing costs and are the only home loans available to the general public that doesn't require a down payment. USDA loans also offer low monthly mortgage insurance and are specifically designed to help moderate to low income families secure a low interest mortgage while helping to boost the local rural economy.
USDA Loan Limits
To be eligible for a USDA home loan you must meet certain county specific income requirements for your area. All USDA loan limits are based on your area median income. The maximum loan amount for a USDA home loan will be determined by several factors including your debt-to-income ratio, your total household monthly income and the appraised value of your home. As of last year, in most areas of the country borrowers must have an income that is equal or lower to 115% of the areas median income. USDA underwriters will also review other financial information such as credit history and employment status to make sure applicants can adequately afford monthly mortgage payments, as well as taxes and insurance. To get more information on the income limit of your particular area please go to the USDA website for more information.
USDA Loan Requirements
For you to be eligible for a USDA mortgage, all properties must be located in a USDA defined rural area. The USDA defines a rural area as any property in open country, or farm land, or any area with a population of less than 25,000. You must also have a consistent income, a reasonably good credit history, and be able to afford monthly mortgage payments. For more information contact your local USDA lenders office to see if you are eligible for a USDA home loan.