New Jersey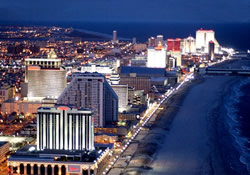 Everyone dreams of having their own home; but in reality, very few are able to do so. There are thousands of such households in and around New Jersey who cannot afford their own home. But not anymore; the US government, along with the USDA, has introduced an amazing housing development program which is all set to benefit thousands of households in New Jersey. Under this program, any rural household who lives in one of the eligible counties and whose annual income falls between the income limits prescribed by USDA (United States Department of Agriculture) stands a chance to get fully financed housing loan.
Some of the advantages of this unique USDA mortgages in New Jersey include:
Zero down payment required to get the approval
Fixed rate interest
Long loan tenure (up to 30 years)
Loan can be used to buy a new home or renovate/repair existing home or even relocate to a new home
100% finance scheme available
Fully backed by US Government
Flexible income limit eligibility
Instant approval
USDA Mortgages in New Jersey – Income Limits
In order to filter out those households who can afford their homes, US government has introduced income limits for granting approval for USDA mortgages in New Jersey. In order to get the due approval for this rural housing development program, the applicant must have annual income fall between this limit. You can check the official website of USDA to know more about this income limit, which is set as per the county and number of members in the household by clicking here: http://eligibility.sc.egov.usda.gov/eligibility/welcomeAction.do?pageAction=pageLoad&requestInfo=GuaranteedIncomeLimits&NavKey=incomelimit@12
Non Eligible Counties for USDA Mortgages in New Jersey
Based on the development index of the specific county, some of the counties within New Jersey are not eligible for this special mortgage program. Some of these counties are:
Atlantic
Bergen
Burlington
Camden
Cape May
Essex
Gloucester
Hudson
Mercer
Middlesex
Monmouth
Morris
Ocean
Passaic
Somerset
Union
Warren
If you are staying in any one of these counties, then don't get discouraged. There are several pockets and areas within these non-eligible counties where the government has approved the USDA mortgage program. We encourage you to visit the official website of USDA to check all the eligible and non-eligible counties of New Jersey by clicking here: http://eligibility.sc.egov.usda.gov/eligibility/textDiscriptionAction.do?pageAction=oipCounty&stateCode=34
If you are planning to purchase your own home, but cannot afford right now, then this is the golden opportunity for you. Join thousands of other residents of New Jersey and materialize your dream of purchasing your own, a 877-342-7449 .