USDA Mortgages After a Foreclosure
What is a Foreclosure?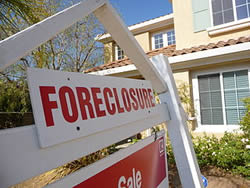 Foreclosure is a situation or a condition where the homeowner, due to certain reasons, is not able to make the due interest payments and/or principle payments on his/her loan or mortgage. Due to this situation the lender of the loan which can be a bank or another financial institution, then has the legal right to sell or seize the property or the collateral for the loan, which is stipulated in the term of the loan contract.
USDA Qualifying Guidelines after a Foreclosure
If you thought that you will not be able to qualify for a home loan because of a recent Deed in Lieu or foreclosure. Then think again because with USDA loans you still have hope of realizing that dream. Here we will talk about a very specific part of the USDA loan eligibility criteria process which can make a big difference between sitting on the sideline without any reasons and getting a loan.
The USDA mortgage program has certain qualifying guidelines that make it possible for prospective home buyers to realize their dreams even if they their track record marred by foreclosure, bankruptcy or Deed in Lieu.
In case of a foreclosure, USDA home loan guidelines requires a 3 years after a foreclosure or Deed in Lieu foreclosure has been finalized. Apart from this, the USDA loan requirements also consider the past credit history of the applicant. This loan program offers flexibility and instead of keeping rigid stance on pre-set rules, it allows in exceptions depending upon the person's ability to qualify. However, in case of foreclosure USDA mortgages will require the title of the home transferred out of the applicant's name.
Qualifying for a USDA loan can prove to be quite difficult especially with foreclosure. This is why you need the guidance of a lender who specializes in the USDA loan process.
Call us or drop an email and we will help you in every possible way while opening the door of home ownership for you.