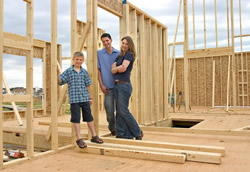 Anybody trying to build a house or build a business in today's brutal new credit environment knows that loans don't come easy. Even with a high credit score, and high value collateral, it can be very difficult to secure a large construction or business loan, especially in a rural area. Many banks and financial lenders today won't even talk to you if you plan on building a business in a small rural town. However, what many people don't realize is that the United States Government offers government backed loans through the USDA for businesses that are located in rural areas of the country. Because the government is backing these loans, financial capital is readily accessible and they can even go up to as much as $10 million dollars.
USDA Home Construction Loans
There are currently two different types of USDA Construction Loans available. One type of USDA construction loan is for building a house and or constructing additional buildings onto your property, while the other construction loan is strictly for commercial properties. The first loan, for home building and home construction, is through the USDA home loan department. The USDA offers great loan opportunities for rural residents to either build their dream home from scratch, or to make needed repairs or build additional structures onto your property. If you have a bad well system or need a new septic tank, the USDA home loan department can help you to secure the money you need to improve your property.
Before applying for a USDA home construction loan you need to have a above average credit score, and be able to show that you can afford monthly mortgage payments. Your home must also reside in a rural area, or an area with a population of less than 20,000 people. Also, your income must be below a USDA designated median income for the area for you to be eligible.
USDA Commercial Construction Loans
USDA Commercial Construction loans are excellent opportunities for businesses in rural areas to secure capital, and also offer low fixed interest rates and up to 80% financing. These loans can be used for building a business property, expanding an already existing business, or for various other environmental development projects. To be eligible for a USDA commercial construction loan your business must be located in a rural area, or a town with less than 50,000 residents. Because most banks and lenders don't normally lend to rural areas or small towns, these are excellent loan opportunities for small businesses looking to secure financing during these tough economic times.