USDA Loans for People with Short or No Credit History
What are USDA loans?
USDA loans are offered by the federal government and are backed by the United States Department of Agriculture. These loan programs are specifically designed for low income families who want to become owners of their own place. Moreover, these loans aim at rural development and are available to borrowers with 100% financing or zero down payment option.
Credit History and USDA Loan Eligibility
Your credit score history will have a detailed and complete list of past debt obligations to other creditors as well as the payments that you made were on time or late. This credit history was within limits or you extended your limitations will also be mentioned in your credit history. Moreover, any foreclosure or bankruptcy will also be mentioned in the credit report.
It is obvious that if you have clean credit record with no late credit payments or things like bankruptcy marring your credit report than you have very bright chances of getting the loan. However, people with a spotty credit issues should not lose hope as they might still be eligible for USDA loans.
Who Has a Short Credit History or No Credit History?
Short history or no credit history is something that happens with people who have faces issues like bankruptcy, foreclosure or a short sale. Moreover, people with heavy late credit payment issues as well as a credit history that is extending the limitations of the borrower also have short or no credit history.
How to Apply for a USDA Loan with a Short Credit History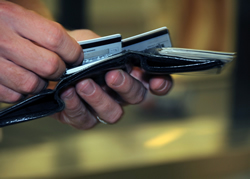 Applying for USDA loan with a short credit history might be tricky but with the help of the right lender and USDA loan specialist this will not be an issue.
You need to remember that the underwriter for this loan just wants ample proof that you are willing to repay the loan. Even if your credit report has late payments or even a previous bankruptcy, a little work on the report can go a long way in convincing your mortgage loan underwriter. There are certain compensating factors that can help people with short credit history secure USDA loan. These are:
Stable job (2 plus year on the same job)
Low debt ratio
Verifiable liquid reserves like savings, checking, 401K etc
Rental history that is verifiable with no late payments