How Do You Find a USDA Choice Home?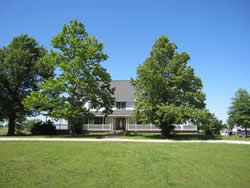 If you're looking for a great opportunity to own your own house, at a low flat rate mortgage, with no closing costs or down payment, you may be interested in owning a USDA Choice Home. USDA Choice home loans offer some of the lowest guaranteed mortgage rates in the country. USDA Choice homes are typically homes located out in a rural area, or small towns with under 20,000 residents. USDA Choice home loans offer more credit flexibility than traditional home loans, and are excellent opportunities for someone to find the home of their dreams.
Finding the home of your dreams today is difficult, and with people with bad credit and low income, it can be down right impossible. However, USDA Choice Home loans offer low, to moderately low incomes a real chance at owning their first home, while getting it with a low fixed rate mortgage.
Qualifications for a USDA Choice Home Loan
For a home to qualify for a USDA Choice home loan, it must meet several requirements. First of all, the home must be located in a qualified rural area. Qualification size may vary, but it is typically defined as an are of open country or towns with populations of 10,000 or less. In certain conditions, homes with a population of 10,000 to 25,000 may qualify. To find out if your prospective home is in a qualified area just speak with a representative from your USDA Rural Development field office for more information.
New and Used Home
A USDA Choice home loan cover new homes, recently built within the last 12 months, or an already existing home. If you decide to purchase a new home that was recently constructed in the last 12 months you will need a builder's 1-year home warranty, certificate of occupancy, and a certified home inspector to approve the soundness of the foundation, framing, electricity, while making sure it meets all state and local codes.
If you decide to purchase an already existing home it must meet the following qualifications. Your home must be structurally sound, meaning that the house must be in good repair at time of purchase, and functional, meaning the home must be adequately functional as a dwelling. Also, the home you purchase must be your primary home and the only place your living. USDA cannot be used for income producing, meaning that you can rent the home to others or make it into a commercial building.
Find a USDA Choice Home Loan Now
To get more information on whether you qualify for a USDA Choice home loan in your area, just contact a USDA representative for more information.