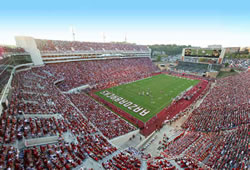 The historical and geographically diverse state of Arkansas can now breathe easy. US Government and United States Department of Agriculture have devised a unique mortgage loan for the residents of Arkansas so that they can easily and comfortably secure their own home. If you are a resident of counties such as Boone, Carroll, Conway, Howard, Hot Spring, Johnson and many more within Arkansas state, then you are eligible for fully financed and zero down payment mortgage loan to purchase your own dream home. USDA mortgage for Arkansas was originally devised for rural development; however, if you are staying in the outskirts of any urban location, and your income limits fall under the eligibility criteria, then you stand a chance to get fully approved housing loans.
Eligible Counties in Arkansas for USDA Mortgage
Based on the existing civil and federal laws and taking into account the property index of the counties, USDA has benchmarked few criteria pointers for the approval of this mortgage. It is advisable to check out these eligibility factors before applying for housing loan.
The following counties are not eligible for USDA mortgages in Arkansas:
Benton
Craighead
Crittenden
Faulkner
Garland
Jefferson
Miller
Pulaski
Saline
Sebastian
Washington
You are advised to visit the official website of USDA to verify the eligibility of each county by clicking this link: http://eligibility.sc.egov.usda.gov/eligibility/textDiscriptionAction.do?pageAction=oipCounty&stateCode=05
Income Limits for USDA Mortgages in Arkansas
Additionally, the government has also benchmarked the income limits for the applicants. Based on the median salary and income potential of the neighbouring rural and urban areas, USDA has determined income limits for eligibility into this housing loan scheme. The lower limits have been set to filter out those individuals who have no intention or capability to repay the loans. And the higher limit has been set to exclude those who can afford their own home from their own money. But don't worry; the income limits are very generic and most of Arkansas residents reading this webpage would fall under the limits. For instance, in order to avail Guaranteed Housing Loan, a resident of Hot Springs County with household occupancy of 3 should have income limits between $22250 and $74750. For complete list and comparison tables of income limits, you are suggested to go through the official website of USDA at http://eligibility.sc.egov.usda.gov/eligibility/welcomeAction.do?pageAction=pageLoad&requestInfo=GuaranteedIncomeLimits&NavKey=incomelimit@12
Benefits of USDA Mortgages in Arkansas
Some of the major benefits of choosing this attractive mortgage scheme are:
Zero down payment loan: Hence, you are not required to pay anything to avail this loan
Fix Rate Mortgage: USDA applies a fix rate loan repayment mechanism, which can extended upto 30 years
No collateral: Government does not require any security for the loan
Backed by US Government
Easy and instant approval
Don't wait further! For all residents of Arkansas, this is a golden opportunity to secure their own home. USDA mortgages for Arkansas residents is all set to revolutionize rural housing development and bring in much needed growth and progress in this sector. Interested to know more about this scheme? Just fill in the form present in the right hand corner of this page or call us at 877-342-7449 .