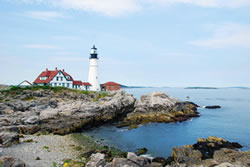 For over one million residents of Maine, there is some good news: Now, with the help of US government sponsored housing development scheme, you can fulfil your long lasting dream of owning your own house. And that too without making any down payment!
USDA mortgages in Maine is an excellent rural development and progress plan, which grants fixed rate interest housing loans to all residents of Maine. Powered by US government, USDA mortgages in Maine have benefitted thousands of families who always dreamt of having their homes, but due to harsh economic times, couldn't afford one. Now, it is your chance you take advantage of this loan, and secure yourself a new home.
Residents of counties such as Franklin, Knox, Lincoln, Oxford, Somerset, Waldo, Washington and many more such areas within Maine can now apply for USDA mortgages and get the desired approval.
USDA Mortgages in Maine – Non Eligible Counties
USDA or United States Department of Agriculture has come up with few eligibility criteria which limit the approval of this excellent loan scheme. Depending on the development index and prevalent rural housing scenario, the following counties are not eligible for USDA mortgages in Maine:
Androscoggin
Cumberland
Penobscot
York
If you reside in any one of these counties, then don't get discouraged! USDA has approved certain areas and pockets within these counties, which are eligible for this loan. You are strongly advised to visit the official website of USDA to know more about all the eligible as well as non-eligible counties within Maine by visiting: http://eligibility.sc.egov.usda.gov/eligibility/textDiscriptionAction.do;jsessionid=56CEC05599EF7EC5AE738FD21BCA91A4?pageAction=oipCounty&stateCode=23
Income Limits for USDA Mortgages in Maine:
For a household with 3 members residing in Oxford county, the annual income per year should fall between $24750 and $74750 to get approval for guaranteed housing loan program. US government has implemented this income limits to filter out those households which are capable of purchasing their own homes and those families which are not willing/capable to pay back the loan. Please visit the official notification and listing of income limits, mentioned as per the county and number of household members by clicking this link: http://eligibility.sc.egov.usda.gov/eligibility/welcomeAction.do?pageAction=pageLoad&requestInfo=GuaranteedIncomeLimits&NavKey=incomelimit@12
USDA Mortgages in Maine – Benefits<
Loan amount can be used to purchase a new home or renovate/repair existing ones
You can even use the mortgage to relocate to a new destination
Absolutely no down payment required
Fixed interest rate for the whole loan tenure
No collateral or security required for loan approval
Loan tenure can stretch upto 30 years
US government back; fully legal mortgage program
Opportunity strikes only once. And this is your chance to become owner of your own house, without any hassles and on your own conditions. Don't wait! You can start the process of applying for USDA mortgages right away by filling the short form in the right hand side of this webpage and/or by calling us at 877-342-7449 .